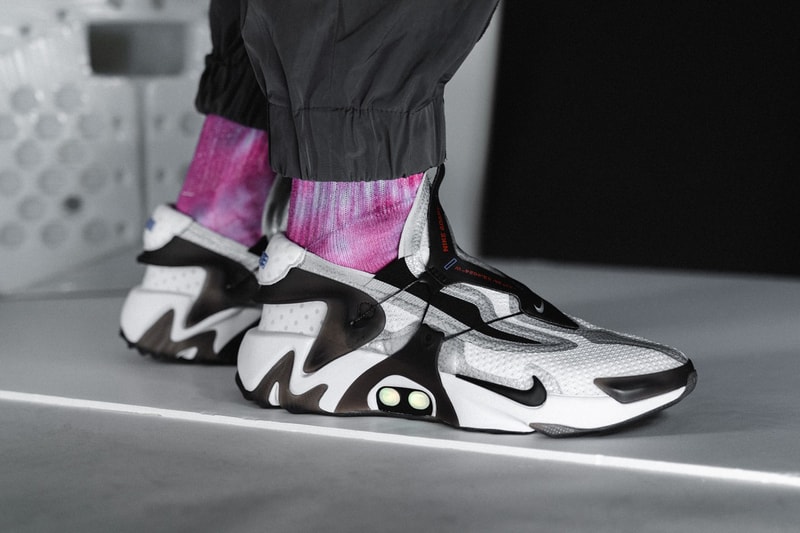 As Fall/Winter 2019 comes into full swing, choosing what goes on our feet becomes a more thought-provoking task. Our sneakers have to be more practical to battle against the elements, but that doesn't mean they need to be dull.
Sneaker mainstays such as Nike and adidas Originals continue to push their vis-tech sneakers to the limits with the likes of the self-lacing Adapt Huarache and the super-cushioned ZX 4000 4D, while streetwear newcomers such as Salomon and Matthew M. Williams focus on rugged durability and all-terrain support. So, to clear up the confusion about which vis-tech-packed sneaker is the one for you, HYPEBEAST has compiled a list of the ten best offerings on the market. Keep on reading below.
Salomon S/Lab XA-COMP ADV
[shoppable brand="Salomon S/Lab" product="XA-COMP ADV" link="https://www.brownsfashion.com/shopping/salomon-s-lab-white-beige-and-black-xa-comp-adv-sneakers-14190823?fsb=1″ store="Browns" price="$149 USD"]
[/shoppable]
Salomon has a number of notable collaborations in its roster of terrain-tackling footwear, working with everyone from Palace to Boris Bidjan Saberi. However, its general-release S/LAB line delivers some of the best-looking pairs, such as this white, beige and black XA-COMP ADV. Asides from its clean aesthetic, the Salomon is packed with tech such as a 3D advanced chassis that provides a constantly stable ride on all terrains, as well as premium wet-traction grip, toggle laces, a light synthetic toe cap and a curb weight of just 340g per shoe.
ASICS GEL-Kinsei OG
[shoppable brand="ASICS" product="GEL-Kinsei OG" link="https://www.brownsfashion.com/shopping/asics-grey-kinsei-og-low-top-sneakers-14072911?fsb=1″ store="Browns" price="$177 USD"]
[/shoppable]
If optimum comfort is your priority, then the ASICS GEL-Kinsei OG should be your vis-tech sneaker of choice. This Samurai warrior-inspired silhouette features an IGS Impact Guidance System — an interlocking network of tech to encourage more natural foot movement — as well as three sections of GEL technology at the rear. ASICS doesn't stop there, as it adds as TRUSSTIC SYSTEM for reinforced stability and, finally, crafts the upper to uphold a BIOMORPHIC FIT, increasing comfort and flexibility up top.
Li-Ning Arc Ace
[shoppable brand="Li-Ning" product="Arc Ace" link="https://www.ln-cc.com/en/men/shoes/sneakers/arc-ace-sneakers-in-grey-lin0138007gry.html?cgid=men-shoes-sneakers#page=1&start=21″ store="LN-CC" price="$190 USD"]
[/shoppable]
Li-Ning, the retired Chinese Olympic gymnast, founded his namesake brand in 1990. Since, the athletics label continues to create sneakers which are inspired by the potential of the human body, and its Arc Ace sneaker is its truest reflection of this ethos. Its futuristic aesthetic is as functional as it is opinion-dividing, as the compression-molded Phylon sole unit complete with high-density foam work together to provide grip and peak shock absorption. Li-Ning finishes the Arc Ace with a lightweight layered nylon, mesh and TPU upper.
Nike Shox TL
[shoppable brand="Nike" product="Shox TL" link="https://www.ln-cc.com/en/men/shoes/sneakers/shox-tl-sneakers-in-black-nik0137019blk.html?cgid=men-shoes-sneakers" store="LN-CC" price="$210 USD"]
[/shoppable]
Nike brought back the Shox TL in late-2018 and has seen its early 2000s shoe dominate sneaker markets ever since. Following collaborations with Skepta, COMME des GARÇONS and Neymar Jr., the Shox TL has cemented itself as one of the most accessible, desirable and easy-to-wear vis-tech sneakers in shops today. Shox works by using its hollow columns and a Pebax dispersion plate to absorb impact as the foot strikes the ground, which makes the columns collapse in the center for a spring-like feel. Nike finishes off the Shox TL with a technical fabrication of breathable mesh on the upper.
adidas Y-3 FYW S-97
[shoppable brand="adidas Y-3″ product="FYW S-97″ link="https://www.24s.com/fr-us/baskets-fyw-s-97-adidas-y-3_4MGHE?defaultSku=4MGHEBLKCD110&color=black-y3-ftaw-white-black-y3″ store="24S" price="$400 USD"]
[/shoppable]
BOOST is one of this century's most known vis-tech inventions. With this adidas Y-3 FYW S-97, you get a chunky wedge of full-length BOOST cushioning, a supportive Primeknit upper with premium suede and leather detailing, as well as a contrasting cage system around the sole unit. BOOST technology is renowned for its comfort, energy-returning nature and appearance, which perfectly suits the minimalist nature of this retro '90s redesign.
Nike ACG React Terra Gobe
[shoppable brand="Nike" product="ACG React Terra Gobe" link="https://www.nike.com/t/acg-react-terra-gobe-mens-shoe-75FvFZ/BV6344-200″ store="Nike" price="$150 USD"]
[/shoppable]
Nike's line-up of ACG sneakers deliver a next-level design alongside fabrics and technologies that allow you to tackle the elements. Its React Terra Gobe features Nike React technology in the midsole for a smooth stride, while the synthetic and textile upper offers breathability and durability. Pick up a pair of the ACG React Terra Gobe if you're looking to keep the elements on the outside, as its stretchy upper folds around the laces to protect your feet from getting wet. A rubber toe rounds off this durable number. 
adidas Originals ZX 4000 4D
[shoppable brand="adidas Originals" product="ZX 4000 4D" link="https://www.harrods.com/en-gb/adidas-originals/zx-4000-4d-trainers-p000000000006260688?bcid=S010010040000″ store="Harrods" price="$245 USD"]
[/shoppable]
adidas' 4D technology caused much fanfare when it first released in late 2017, and has since gone on to shape some of the Three Stripes' most unique silhouettes. Whereas coveted drops from Daniel Arsham and Footpatrol command thousands on the resell market, pairs such as the "I WANT, I CAN" iteration are a great general-release pick up. 4D isn't just aesthetically pleasing, it's also hardwearing and delivers unrivaled amounts of controlled energy return. Opt for this if you're looking for a balance of old and new, thanks to its OG ZX-inspired Primeknit upper.  
New Balance MSCRC
[shoppable brand="New Balance" product="MSCRC" link="https://www.sneakersnstuff.com/en/product/38867/new-balance-mscrc" store="Sneakersnstuff" price="$159 USD"]
[/shoppable]
New Balance's hiking-ready MSCRC is the perfect trail-inspired sneaker for Fall. Its white colorway is protected by several different fabrics such as mesh and CORDURA material, as well as ripstop nylon. Further technical elements include "N" branding made from webbing, an ABZORB-packed sole unit, and a Vibram outsole for advanced levels of grip. Yet despite its credentials, New Balance's Tokyo Design Studio manages to keep things clean, simple and minimalist.
Nike Adapt Huarache
[shoppable brand="Nike" product="Adapt Huarache" link="https://www.stadiumgoods.com/nike-adapt-huarache-opti-yellow-bv6397-710″ store="Stadium Goods" price="From $470 USD"]
[/shoppable]
Vis-tech doesn't just have to be in the sole unit, as Nike proves with its most recent futuristic sneaker, the Adapt Huarache. Although it does feature the Huarache's innovative performance running sole unit, it's the shoe's futuristic tech-laden upper that steals the limelight. Revolutionary Nike FitAdapt technology is driven by a midfoot motor and smartphone app to tighten and adjust the neoprene bootie and exoskeleton upper, allowing for the perfect fit every time.
Matthew M. Williams x Nike Free TR 3
[shoppable brand="Matthew M. Williams x Nike" product="Free TR 3″ link="https://www.alyxstudio.com/collections/nike-mmw/products/nike-mmw-free-tr-3-se?variant=30308059545689″ store="1017 ALYX 9SM" price="Approx. $417 USD"]
[/shoppable]
Matthew M. Williams' Nike Free TR 3 in the 1017 ALYX 9SM-exclusive "Camo Green/Black" colorway rounds off HYPEBEAST's list of vis-tech sneakers. With its removable Vibram crampon, you can choose between a lightweight runner or a chunky boot-like look that is rugged, stable and strong. The sneaker is indebted with tactical design cues such as thin rope laces, adjustable straps and a printed zip-up sock collar that fits snug on the foot. Molded panels and premium leather overlay the upper for increased durability.
Click here to view full gallery at HYPEBEAST
We are sorry that this post was not useful for you!
Let us improve this post!
Tell us how we can improve this post?